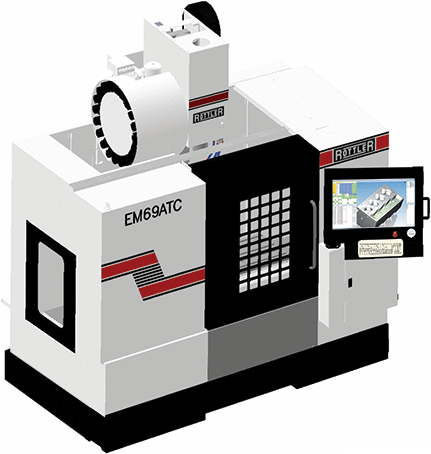 Machine Operations
Automatic Tool Changer
Block Surfacing
Blue Print Boring
Boring & Sleeving
Circular Interpolation
Cylinder Boring
Cylinder Head Resurfacing
Lifter Boring
Line Boring
Multi Purpose CNC (Custom Parts)
Thrust Cutting

Overview
The EM69ATC 3 and 4 axis CNC Machining Center is versatile and great for machining engine blocks and making custom parts with a 24-tool Automatic Tool Changer. Read more in the "Features" tab below.

Rottler's totally new, next generation CNC control found in the EM Series machines continues to give users unmatched speed of learning and ease of use when probing/digitizing without the need of additional cumbersome and expensive software. This advanced 4C software lets users know they are machining with the most state-of-the-science equipment available. Read more in the "Control" tab below.
Features
Instant Internet Support - Rottler offers cutting edge internet support direct from your machine to the factory. Skype is installed for internet support. This feature gives you instant, direct contact with Rottler right on the machine without even making a phone call.

Automatic Tool Changer - 24 Space Automatic Tool Changer for CAT40 Taper tools. The tool changer can handle up to a 10" (250mm) diameter tool weighing 15.5lbs (7kgs).

Windows Operating System - Rottler uses Windows and Touch Screen Technology/ through a 32" (813mm) panel. The Windows software has many advantages such as a common user interface that the whole world is familiar with.

Touch Screen Control - Two different operating systems are available. (1) The Rottler system for simple, fast and easy programming of common jobs such as boring, surfacing and line boring. Anyone can learn in a few hours. (2) The other is the Optional 4C CAD/CAM software for advanced CNC programming for endless opportunities such as making parts, engraving names and much more.

Brushless Servo Motors with BISS Encoders - The EM69ATC has the latest technology servo motors with BISS encoders offering 100 times finer resolution compared to previous models. These new Servo motors give maximum torque and performance throughout the RPM range for improved accuracy and increased productivity. BISS encoders eliminate any limit switches and do not require homing at star up saving time and increasing reliability.

Electronic Hand Wheel - Offers operator infinite control of machine movement in all axes for quick and easy setup. Also controls variable feed rate during automatic cycles.

Spindle - Super hard finish resists wear for years of operation. 0-10,000 RPM Spindle Rotation with quick change CAT40 Taper.

Massive Frame - Massive Frame boasts full enclosure with Sight Panels in front and on sides of enclosure to view work area.

Direct Drive Ball Screws - Direct drive precision ball screws for faster rapid feed rates and accurate positioning eliminating backlash problems relating to belt drive systems.

Linear Roller Slideways - All Axes of the EM machines are supported on low friction Linear Roller Bearing Slideways allowing fast acceleration and precise positioning for more production and precision parts.

Large T-Slot Table - Allows operator to clamp or fixture any job quickly and easily.

Coolant Tank - Complete coolant system for tool lubrication during machining. 30 gallon capacity.

Automatic Lubrication - For years of trouble free life and reduced wear.

Chip Auger - Automatically removes chips from enclosure and deposits chips in wheeled disposal cart.
Standard Equipment
CNC (Computer Numerical Control) Machine using Windows Operating System and Industrial PC with Intel Processor. Precision Programming and Control through a 32" (313mm) Computerized Touch Screen.

Software options available for Programmable & Automated Cycles such as Boring, Surfacing, Lower Sleeve Offset Boring, Water Hole Repairs, Main & Cam Line Boring, General CNC Machine Work and more.

Internet connection to the machine computer must be provided for training support and service.

Programming and Machine Operation Thru 32" (813mm) Extra BrightTouch Screen

Electronic hand wheel for manual movement - per click: Coarse Mode .01" (.25mm) Medium Mode .001" (.01mm) Fine Mode .0001" (.002mm)

Precision Digital Readout, .0001" (.002mm) Resolution in 3 Axis

Machine Prepared for 4th axis fixture upgrade

3 Axis Movement by direct drive Precision Ball Screws & AC Servo Motors - Infinitely Variable Horizontal Movement - Left and Right Direction - 40.5" (1028mm)

Extra Clearance Between Spindle Nose and Machine Table - 40" (1016mm)

High Speed, Rigid Spindle for Chatter Free Cutting

Spindle Rotation by AC Servo Motor - Infinitely Variable 0-8,000RPM

Automatic Central Lubrication System

24 Space Tool Changer for CAT 40 Taper

Full Enclosure with Sight Panels of Work Area

Complete Coolant System for Tool Lubrication During Machining

Operation and Spare Parts Manual

Chip auger for chip removal
Control
Advanced 4C Software
What is 4C Software? Rottler's newest EM Series equipment offers Computer Numeric Control (CNC), Computer Aided Design (CAD) and Computer Aided Manufacturing (CAM) in the industry's most advanced Computer Measuring Machine (CMM). The 4C technology allows users to digitize, edit designs and begin cutting in less time but also requires less machining/programming expertise compared to many other systems. This brand new, revolutionary CNC machine CAD/CAM software allows 3D CAD Solid Models to be imported or created at the machine – the built-in CAM functions can be used to semi-automatically and interactively create complex 3D tool paths direct from the CAD geometry.

One of the main features is the EM series' expanded size 32˝ touch screen – by maximizing screen size, Rottler's CAM software allows unprecedented amounts of information to be displayed for the operator's use. The user can choose the information to be displayed for incremental and interactive functionality.

Dimensions input through touch screen:

Bore Centers, Exact Depth, Speed, Feed, etc.

Bores complete bank in Automatic Cycle.

Lower Bore Relief, off center boring for Honing Clearance.

Surfacing Multiple Pass programmable for roughing and finishing can remove any amount of material in one automatic cycle. Enter desired deck height of block and themachine will cut to that height. No more guess work!

Lifter Bore Machining - bore housings and bushings to exact final size.

Automatic line bore cycle completes all main bearing housings to within .0002".

Face main line thrust bearing faces square to crankshaft centerline.

Machine a radius for stroker crank connecting rod and bolt clearance.

Rottler PATH CNC program allows G code programming and file transfer with CAD/CAM programs.
Specifications
EM69ATC Machine Specifications
American
Metric
Control
Rottler CNC
Spindle - Motor Torque
70.5in.lbs
95NM
Slideway Type (X/Y/Z)
Linear Roller Bearing Slideways
Axis Feed Method (X/Y/Z)
Direct Coupled Servo Driven Ball Screw
Table - Size
19.68" x 59.09"
500 x 1500mm
Table - T Slots
5
Travel - Horizontal (X Axis)
40.5"
1028mm
Travel - In/Out (Y Axis)
20.5"
520mm
Travel - Vertical (Z Axis)
30.5"
775mm
Travel - Spindle Nose to Table
40"
1016mm
Spindle - Taper
CAT40
CAT40
Spindle - Rotation Speed
0 to 8000 RPM
Coolant Capacity
30 Gallons
113 Liters
Weight Capacity
1540lbs
700kgs
Tool Changer - Number of Tools
24
Tool Changer - Maximum Weight of Tool
15.5lbs
7kgs
Tool Changer - Maximum Length of Tool
11.8"
300mm
Dimensions - Machine
101D x 127W x 117" H
2565D x 3225W x 2972mm H
Dimensions - Floor Space Requirements
101D x 146W"
2565D x 3708Wmm
Dimensions - Shipping
90D x 121W x 110" H
2286D x 3073W x 2794mm H
Machine Weight
11500 lbs
5546 kg
Electrical Requirements
208-240V, 60A, 50/60Hz, 3Ph
Air Requirements
1 cfm @ 90 psi
6 l/min @ X bar
Paint Color Code
RAL9002 (Grey White)